From the Ground Up: Your Home Becomes Your
Story
As our homeowners anticipate whats to come as they stare at a hole in the ground—they find a mix of emotion flooding over them.  Eagerness.  Nervousness.  Excitement.  Building a home—a custom home at that— definitely requires lots of patience as the home under goes a number of stages before it ever becomes the final product.  But the amazing part about the experience is the story you tell, the story that becomes, the story awaiting to grow.
We are so grateful—as one of our more recent clients took it upon themselves to capture the undergoing of their new home.  They were able to capture the process from the very beginning and many various days in between until the home was officially complete.  You  will see the home site, and then the clearing of the home site, to a hole in the ground, to framing, to enclosing, and then the many finishes being applied to give the home a finished facade. All the while, the interior taking transformation at the exact same time.
Its a touching experience, as it becomes your very own story and the construction portion being just the beginning.
So now that you have had the opportunity to experience the home building process in a quick four minutes as the homeowners awaited eight months—we deem it only fair for you to be able to bask in the beauty of the interior too!  Have a look:
Great Room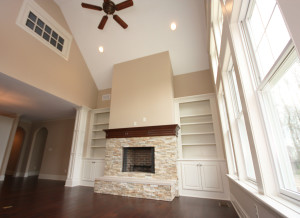 This image captures the home's great room.  As you can see there are a variety of features one can appreciate—large windows, stone fireplace, built-ins, and heightened ceilings.
Great Room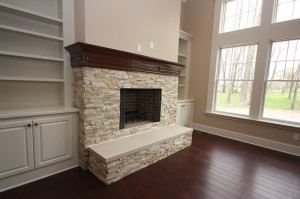 This is another angle of the great room.  In this image you are able to appreciate the variety of warm tones the stone fireplace has to offer.  It compliments the hardwood floors and the stained mantle nicely.
Kitchen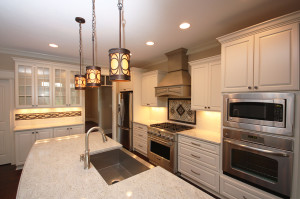 This photograph captures the home's kitchen.  As you can see the colors used throughout the home reflect a very neutral palette.  Many colors reflect that of nature and have a soft and muted appearance.
Kitchen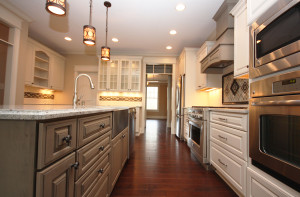 Another perspective of the kitchen—this angle allows one to take in all the details all the way down to the pulls and knobs on the cabinets.
Study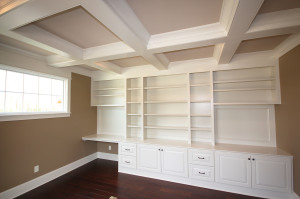 Lastly, an image of the home's study.  As you can see a lot of custom trim detail was done to build up the wall for storage and desk space.  Additionally, the ceiling detail adds another dimension to the room and the large transom window allows all the features to shine–make an impact.
Remember every experience lends a book full of blank pages—so write your story and make it a good one!